YBS BreatherQuilt – The Best Way to Prevent Reroofing Hassels!
The Best Way to Prevent Reroofing Hassels!
Are you about to take on a reroofing project? We understand it can be a bit of a mind field understanding what materials you need like choosing an appropriate Breathable Membrane. Say goodbye to some of these decisions with YBS BreatherQuilt! Continue reading to find out the many advantages of this product and how it can assist you in your roofing project. This product has a wide range of advantages from energy efficiency and enhanced thermal benefits to easy installation.
What is YBS BreatherQuilt?
Most homeowners have encountered problems with their roofs at some point. Whether that's damaged shingles or a leaky roof, roofing issues are a hassle to deal with. There is a product that can help prevent roofing issues.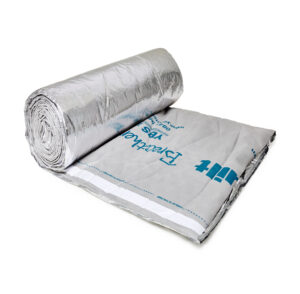 YBS BreatherQuilt is the best product on the market to prevent your home from weather and climate damage and it's also fire-resistant. It's a breathable membrane with added thermal properties due to layers of foil and wadding. The materials are of the highest quality it's also manufactured in the UK. BreatherQuilt has been designed to ensure your roof will last as long as possible.
Benefits of YBS BreatherQuilt
Reroofing your home is a huge investment it's also something that you don't want to worry about or spend additional money on the repair once it has been completed. YBS BreatherQuilt is a unique product that offers multiple benefits to homeowners. Here are just a few of the benefits of using BreatherQuilt on your roof.
Simple Installation – It's easy to install there's no need to hire a professional or even buy specialist equipment. It can be installed by anyone with basic DIY skills.
Improved Energy Efficiency – BreatherQuilt retains heat during the winter as well as reflecting heat away during the summer. This will help maintain a comfortable temperature all year round it'll also help lower your energy bills.
Protects Against the Elements – BreatherQuilt will protect your home from all types of weather conditions including snow, rain, wind, and even hail damage.
Peace of Mind – Knowing your newly purchased roof is well protected will give you some peace of mind as well as allow you to enjoy your home to the fullest.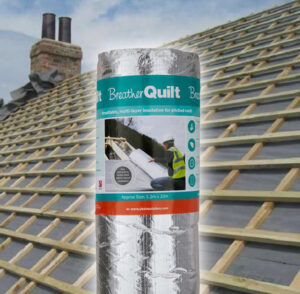 How Does BreatherQuilt Work?
BreatherQuilt is a high-performing insulation and breathable membrane. It's a roofing underlayment that protects your roof and home from the elements. It allows air to circulate beneath the shingles because it's made from a fully breathable and water-resistant material. It allows air to pass through but prevents any water and moisture from entering. Not only is it a high performing it also has excellent thermal properties due to the layers of wadding and foil. The foil is fully perforated to allow air to pass through.
What makes YBS SuperQuilt Superior to Other Breathable Membranes?
YBS BreatherQuilt is a superior roofing breather membrane for many reasons. Firstly, it's made from high-quality materials that are designed to last. Secondly, it's incredibly easy to install and requires next to no maintenance. Thirdly, it's an effective barrier against heat, cold,  and moisture which makes it ideal for all climates and weather conditions. YBS BreatherQuilt also comes with a comprehensive warranty, ensuring that you will be satisfied with your purchase.
Conclusion
Investing in your roof can seem like a mindfield of choices to make but investing in YBS BreatherQuilt will help you prevent any future roofing hassels. The combination of its airtight seal, thermal properties, as well as its breathable membrane will keep your home safe from the elements and prolong its life. It also maintains a comfortable temperature all year round and reduces your energy consumption.
Take a look at our wide range of insulation solutions HERE
If you require any assistance please call us at 0114 323 0012 or CLICK HERE to request a callback.
trending_flatBack to News