The BEST Flooring Insulation – EcoTec FloorFoam Kit
The BEST Flooring Insulation – EcoTec FloorFoam Kit
Floor insulation is a simple step to help reduce your energy bills and any cold draughts entering your property. It's usually overlooked by homeowners who're looking to prevent cold draughts. However, The most common places people draught proof are doors and windows. Our EcoTec FloorFoam is also a well-known product that has been used by hundreds of property owners and building companies.
Not only can you save money by installing EcoTec FloorFoam but you'll also be able to enjoy the benefits of warmth and sound absorption. Insulating your floor helps to retain the heat you're paying for which will help reduce excessive heating. An uninsulated floor could be allowing around 15% of the heat your home produces to escape.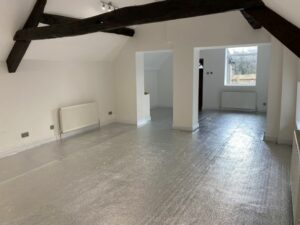 More Benefits to EcoTec FloorFoam
EcoTec FloorFoam can be used under many types of flooring including carpets, laminate, vinyl, wood, and many more.
It prevents cold air from bridging below by blocking the airflow from through draughty floorboards.
When taped and sealed using ThermaSeal Foil Joining Tape it creates a vapour control barrier which helps reduce condensation and dampness.
It adds a cushioning layer underneath the flooring which makes hard flooring more comfortable to walk on.
FloorFoam is suitable for all types of construction projects new builds, retrofits, or DIY.
There's no need to lift any floorboards as FloorFoam is designed to be used directly over the top which also makes it a really easy and simple insulation job.
EcoTec FloorFoam can be used on concrete or timber floorboards.
How to Install EcoTec FloorFoam
Floor foam can be utilised in rooms where rising cold air destroys house energy efficiency as well as on lower and upper levels, above unheated areas like garages. The easiest way to install Floorfoam insulation is to lay it directly on the wood or concrete floor. With our 75mm Thermaseal True Aluminium Foil Joining Tape, make sure the edges are joined and seal the perimeter. After that, you can install your laminate flooring, wood, underlay, and carpets as directed by the manufacturer.
To give vinyl flooring a firm surface to sit on when installed, we advise placing a thin piece of plyboard above the floor foam.
Check out our How-To-Guide and How-To-Video for more in-depth instructions HERE.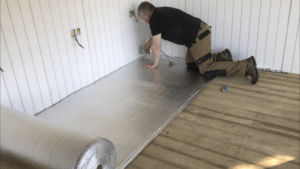 How Much EcoTec FloorFoam Do I Need?
Each roll of EcoTec FloorFoam is .2m x 25m which covers an area of 30m2. We supply a roll of ThermaSeal Foil Joining tape 75mm x 50m with each roll of FloorFoam.
We also supply a Trade Pallet Deal for EcoTec FloorFoam which contains 15 rolls of FloorFoam that covers an area of 450m2. 15 FREE rolls of ThermaSeal Foil Joining and a FREE Staple Gun Kit & 5,000 14mm Staples.
Delivery and Contact Information
Call us on 0114 323 0012 or request a call back HERE
You'll also receive FREE next-day delivery on all EcoTec FloorFoam Insulation Kit orders.
trending_flatBack to News