YBS SuperQuilt LITE Agrément Certified Insulation
Are you looking for multifoil insulation with superior performance? Here at Multifoil Insulation, we sell a wide variety of insulation for all projects within the home. Today we'd like to show you the benefit of YBS SuperQuilt Lite. This insulation can be used in various areas of the home including:
Floors
Walls
Roofs
Garages
Sheds
Conservatories
Caravans
Lofts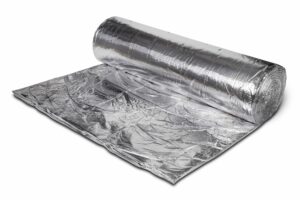 What is SuperQuilt Lite?
YBS SuperQuilt Lite serves two main purposes not only is it thermally efficient it can also be used as a vapour control barrier once taped and sealed using our ThermaSeal Foil Joining Tape. It contains 9 layers of true aluminium foil and wadding which is what makes it so thermally effective even at just 32mm thick. This also compares to 90mm of mineral wool.
When installed your home will retain heat more efficiently in the winter and reflect excess heat away during the summer. SuperQuilt Lite is manufactured in the UK and it's made out of 84% recycled materials. Each roll of SuperQuilt Lite is 1.5m by 10m which covers an area of 15m2.
This insulation has been guaranteed by UK industry standards. It's also fully Agrément certified to UK industry standards, complies with building controls, and is recognised by the NHBC. SuperQuilt Lite can be used in new construction it can also be used in retrofit / DIY projects because it's easy to install and doesn't produce any harmful or itchy fibers so you don't need a professional or specific PPE to install it.
SuperQuilt lite has an R-Value of up to 2.07 m2K/W  which is also equivalent to 90mm of mineral wool.
Did you know we sell SuperQuilt Lite as a Trade Pallet which contains 16 rolls of the insulation 8 FREE rolls of ThermaSeal Foil Joining Tape and a FREE Staple Gun Kit however it can be sold in individual rolls.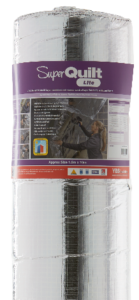 How To Order and Delivery Details:
With purchases ordered before 2 PM, we also provide complimentary next-working-day delivery to the UK Mainland.
To find out how much of our insulation you need before ordering use our FREE online U-Value calculator for all of our multifoil products – Click Here!
If you need any help you can get in touch with us by sending a message or calling 0114 323 0029.
Multifoil Insulation supplies a wide range of high-performing foil insulation solutions at some of the lowest direct trade prices in the UK. We have foil insulation solutions for lofts, roofs, walls, floors, conservatories, garden buildings, and more!
trending_flatBack to News