SPC-Lux Flooring – our Brand New Range of Flooring
SPC-Lux Flooring – our Brand New Range of Flooring that strikes the balance between hardwearing composite and the natural beauty of hardwood. It's the ideal flooring for both commercial and residential settings due to its multilayer construction it possesses all the quality necessary. SPC stands for Stone Polymer Composite and the primary ingredient is limestone. Due to its UV coating which makes it fully waterproof and resistant to fading, stains, and scratches.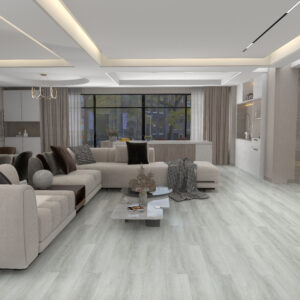 Why Choose SPC-Lux Flooring?
We completely understand it can be difficult choosing the perfect flooring due to the variety of options available. Our construction specialists have spent many hours working with manufacturers to bring you the hardest wearing reasonably priced flooring option.
However, there are varying qualities of SPC from other manufacturers but our factory partners stand by the quality of our Premium SPC-Lux Flooring collection. It's the next generation in on-trend beautiful flooring and it's equally as hard-wearing.
You can choose between 7 beautiful colours to turn your dream floor into a reality. If you're interested in purchasing some samples CLICK HERE.
Why not insulate on top of the concrete or timber subfloor before laying your chosen flooring? You could try our EcoTec Floor-Foam which is just 4mm thick and prevents cold bridging from below it's much more effective at insulating than a traditional underlayment. You also don't need to lay an underlay over the top of EcoTec Floor-Foam.
Key Features of SPC-Lux Flooring
Anti-Slip textured surface
100% Waterproof
UV coating – resistant to fading
Choose from 7 Stunning Colours
Pet Friendly
Fire Retardant
100% Recyclable
Suitable with EcoTec FloorFoam
Stable under all temperatures
Authentic Real Wood Look
35 Years Residential Warranty
15 Years Light Commercial Warranty
Unilin Click Locking System
No Toxins or Gasses Emitted
100% Compatible with Underfloor Heating Systems
Free Delivery to anywhere in the UK Mainland
Installation Service Available (Midlands) Enquire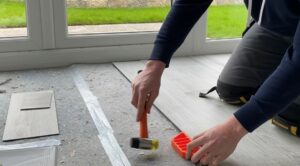 SPC-Lux Flooring FAQs
Is SPC-Lux pet friendly?
Due to the hard-wearing UV resin coating, SPC-Lux is scratch and indentation resistant which makes it perfect for any pet owner. It's also fully waterproof so no pet-related accidents will penetrate beneath the flooring. It's easy to clean and will not absorb any liquids.
Is SPC-Lux anti-slip?
The UV resin coating there's a natural textured hardwood finish which makes it feel like the grain of natural wood. This texture provides you with a slip-resistant top layer. Also when it's wet it has much higher friction than other types of flooring.
Where can SPC-Lux be installed?
It's completely versatile and can be used in both residential and commercial settings with long-lasting warranties. As long as it's installed on a dry dust free smooth surface.
Will SPC-Lux fade in direct sunlight?
No, due to the double UV resin top layers, our SPC-Lux Flooring won't fade in direct sunlight.
Can SPC-Lux be installed alongside underfloor heating?
Yes, SPC-Lux works well with both wet and dry underfloor heating systems. SPC stores heat effectively due to its limestone powder composition, which means your floor stays warm for a while after the underfloor heating has turned off. It's more effective in aiding underfloor heating than many other flooring types.
How environmentally friendly is SPC-Lux?
SPC-Lux is 100% recyclable. Because it's made from limestone powder and virgin polyvinyl chloride both these materials can be recycled.
How does SPC-Lux compare to Laminate Flooring?
Laminate flooring is not waterproof if water gets under it it can cause the laminate to lift and problems with dampness and mould. However, SPC-Lux is 100% waterproof.
How does SPC-Lux compare to Luxury Vinyl Tiles?
Since vinyl is made entirely of PVC, it is incredibly supple. The indentation resistance of SPC is greater. SPC takes less time to install since it requires less time to prepare for installation. The subfloor must be in pristine condition before installing vinyl, unlike SPC, which can be placed by homeowners and skilled DIYers alike, luxury vinyl tile, however, must be done by a professional.
Installation
We've made a step-by-step How To Video and How To Guide to show you how to install our SPC-Lux Flooring and our Fully Insulated Flooring Solution.
Ready to check how many packs you need? You can use our easy-to-use calculator on our product page (Each Flooring Pack Contains 9 Planks and Provides 2m²). You can also view our colour range (7 shades available) and will be able to order a sample ahead of your order – just head <<HERE>>.
If you have any questions about SPC-Lux Flooring or the Fully Insulated Flooring Solution please call us on 0333 577 0288 or request a call back HERE.
trending_flatBack to News