Is Your Conservatory Ready for Summer?
Is Your Conservatory Ready for Summer? Most people wouldn't think to insulate their conservatory ready for the summer and autumn seems like more of an appropriate time. Having a warm toasty home is at the forefront of everyone's mind during the cold winters. However, there are some massive benefits to insulating your conservatory for the summer.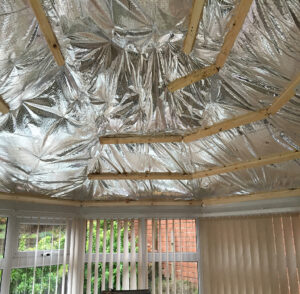 With the increasing summer temperatures we've been experiencing each year, how can we forget the 40.3° temperatures last summer? Conservatory insulation is the best way to ensure your conservatory stays as cool as possible all year long!
Conservatory Roofs
Older conservatory roofs are usually made out of polycarbonate, not glass. This plastic-like material has next to no insulating properties and does very little to prevent heat from escaping or entering the conservatory. Technically the best thing to do would be to replace the old roof with a fully insulated roof however this is very costly.
This is why we've created a Conservatory Roof Insulation Kit which is a fraction of the cost of replacing the roof.  This insulation kit will show immediate results on how well it can maintain a comfortable temperature. You can also see a difference in your energy bills, especially during the winter when you'd reply on heating. The kit works by reflecting heat away during the summer and maintaining a cooler temperature during the summer and reflecting heat into the conservatory during the winter which will make your conservatory much warmer.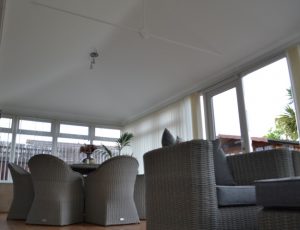 What Insulation Does The Conservatory Insulation Kit Use?
Our Conservatory Insulation Kit uses EcoQuilt Expert which is suitable for insulating conservatory roofs, due to how lightweight it is and its high thermal properties.
Here's a list of benefits to EcoQuilt Expert:
6 Layer MultiFoil Insulation
Only 15mm thick and compresses down to 6mm when installed.
Flexible, Thin, and Easy to Install
High Performing Vapour Control Layer
R-Value of up to 2.27 m² K/W
UK Manufactured
Equivalent to 50mm Rigid PIR Insulation
Lightweight insulation, allowing for easy installation.
What do we provide in our Conservatory Insulation Kit?
Depending on the type of Insulation Kit you select (EcoKit / SuperKit)  you will receive the insulation material.
With each Conservatory Insulation Kit, you will also be supplied with Thermaseal Foil Joining Tape 
A Heavy Duty Staple Gun with 5,000 x 14mm Staples
If you're insulating a glass conservatory roof we recommend using a frosted glass film called ThermaFrost Conservatory Roof Window Tint. It prevents UV rays from entering the cavity between glass and reflective foil this will ensure the longgevity of the insulation and create a white opaque look on the outside so you can't see the silver foil of the insulation from the outside.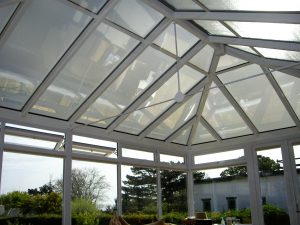 Conservatory Roof Multifoil Insulation – Trade Pallet
We also offer a Trade Pallet option for  EcoQuilt Expert Conservatory Insulation, the trade pallet Includes:
20 x Rolls of EcoQuilt Expert (12m² or 15m² Rolls)
8 x FREE Thermaseal Foil Joining Tape
FREE Heavy Duty Staple & 5,000 14mm Staples
20 Rolls of EcoQuilt 1.5m x 10m (15m²) Covers 300 m²
20 Rolls of EcoQuilt 1.2m x 10m (12m²) Covers 240 m²
Delivery and Contact Information
Any orders placed before 2pm will recieve FREE next working day delivery on orders over £100 excluding VAT (UK Mainland)
If you have any questions you can request a call back HERE or you can call us on 0114 323 0012
trending_flatBack to News