EcoQuilt45 – the Latest Addition to our Multifoil Insulation Range
EcoQuilt45 – the Latest Addition to our Multifoil Insulation Range
EcoQuilt45 the Latest Addition to our Multifoil Insulation Range. Insulation is crutial to keeping our homes warm additionally no one wants the heat in our homes to go to waste. The cost of energy is on the rise and the effects of climate change is also on our mind, EcoQuilt45 is an amazing way to save on house hold bills and reduce your carbon footprint. Insulation made of multiple foils assists in retaining heat within your home and also keeping your house cool during the warmer summer months. Which results in using your fans less which will also reduce your energy bills.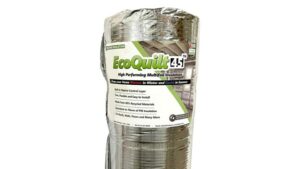 What is Multifoil Insulation?
Multifoil is an insulation material composed of layers of foil and wadding with a protective covering. Multifoil Insulation can be used in older buildings as well it's frequently used in new builds during the renovation process. It's easy to install, more energy efficient than many conventional types of insulation. It also has a variety of beneficial characteristics, including;
Can be used alone or in conjunction with other insulation materials.
Because it's thinner than standard insulation, it can be used on walls, floors, and ceilings.
Vapour control
Heat is reflected by the foil layer, preventing heat from escaping the home.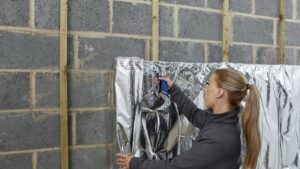 Our Latest Product EcoQuilt45
EcoQuilt45 is an advance version of our EcoQuilt Expert to make your home even more energy efficient. EcoQuilt Expert is our most popular product in our Multifoil range.
EcoQuilt45 is a highly reflective multifoil insulation that will effectively retain your heat energy that would have otherwise escaped. It acts as a barrier between the external temperature fluctuations and the inside of your home so it doesn't allow cold to enter and excessive heat to enter. When Taped and Sealed with our Thermaseal Foil Joining Tape it also creates a high-performing vapor control layer too. Use code TAPE22 at checkout to recieve a FREE roll of ThermaSeal Foil Joining Tape.
EcoQuilt45 is 45mm Thick however it compresses to just 7mm when installed. Performance-wise, it equates to 70mm of PIR. So, this product will save you Money and Space, compared to using PIR.
EcoQuilt45 comapred to SF19+
SF19+ is an imported product from China that has recently lost its BBA Certificate. It was claimed that SF19+ had an R-Value of 1.63 however through testing it was discovered that its true R-Value is 1.27. Compared to EcoQuilt45 which us UK manufactured had an R-Value of 1.29.
 EcoQuilt45 Applications…
Roofs – Pitched Under Rafter / Loft Floors
Walls – Solid and Cavity Walls
Floors – Concrete and Timber Floors
Timber Frame Walls
Garden Buildings
Summer Houses
Conservatories
Caravans
Containers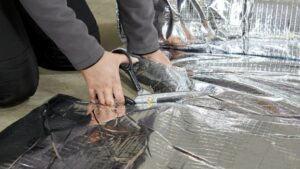 Order and Delivery
We offer a FREE Nationwide Delivery on EcoQuilt45, to the UK Mainland!
Order before 2 pm Monday – Friday, and receive free next working day delivery (UK Mainland)
Orders placed after 2 pm Friday, or over the weekend, are delivered Tuesday. (UK Mainland)
Why not take a look at our whole range of multi-foil insulation <<HERE>>
get in touch if you need some professional insulation assistance from THE insulation experts
trending_flatBack to News