EcoPro VS EcoTec Shed Insulation Kit
EcoPro VS EcoTec Shed Insulation Kit
EcoPro VS EcoTec Shed Insulation Kit. Have you got unused outdoor space? Having a well-insulated shed or garden building can give you much-needed extra space added to your home for all-year-round use. Are you looking to protect some items you're storing from the cold winters and sweltering summers or be able to use your outdoor space as an office, gym, art studio, etc? we have two solutions for you.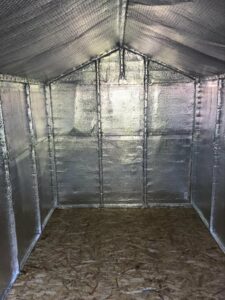 Our DIY Shed Insulation Kits
Whatever your intended use for your shed is we have some solutions to convert your shed into a functional area. We certainly have two DIY shed insulation kits to choose from. Both kits include UK-manufactured reflective foil insulation, which keeps the construction at a much more comfortable temperature. You will receive everything you need to complete the project yourself.
If you're wanting to use your shed/summerhouse/garden building as an extra room to your house maybe as a home office, gym, beauty studio, living space, or art studio you'll want to insulate the space so you can use it all year round. Thermal insulation is really important so you don't need an electric heater running constantly to try and warm the space. The drastic temperature changes could also damage printers, computers, and paper insulation would help protect against this.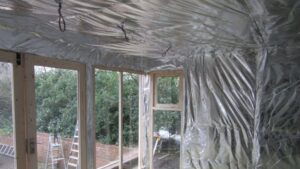 The EcoPro Shed Insulation Kit is ideal for this use. The insulation is equivalent to 50mm of the rigid board such as Kingspan and 100mm of Rockwool. You won't need to install a vapour control layer when the multifoil insulation is taped and sealed it will create a vapour control layer.
What's included in the kit?
EcoQuilt Expert 1.5 x 10m
ThermaSeal Foil Joining Tape
Heavy Duty Staple Gun Kit & 5000 Staples
Cutting Knife
Or we have the…
In the UK we have very cold winters and hot summers. If you are planning to store items like paint, electronics, or other products that are susceptible to damage in these conditions, it's important to have the space insulated to help control temperature and humidity levels. By properly insulating a shed, you can maintain consistent temperatures and humidity levels and create a climate-controlled space where you can extend the life of your items even when they are stored for an extended period.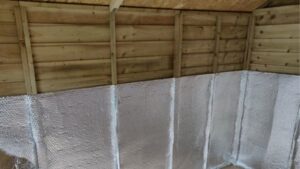 This can also be used in greenhouses to protect your plants during the winter and control the heat and humidity during the summer.
The insulation also creates a vapour control layer so a vapour control membrane isn't needed. It's very thin at only 4 mm and is very easy to install.
What's included in the Kit?
EcoTec Shed Insulation
ThermaSeal Foil Joining Tape
Heavy Duty Staple Gun & 5000 Staples
Cutting Knife
How much insulation do I need?
If you're unsure about the amount of insulation you'll need for the job there's a calculator on the product page that'll suggest the amount you'll need.
If you have any questions give us a call on 0114 323 0012
Or request a call back HERE
We offer FREE next working day delivery on all orders over £100 excluding VAT
trending_flatBack to News